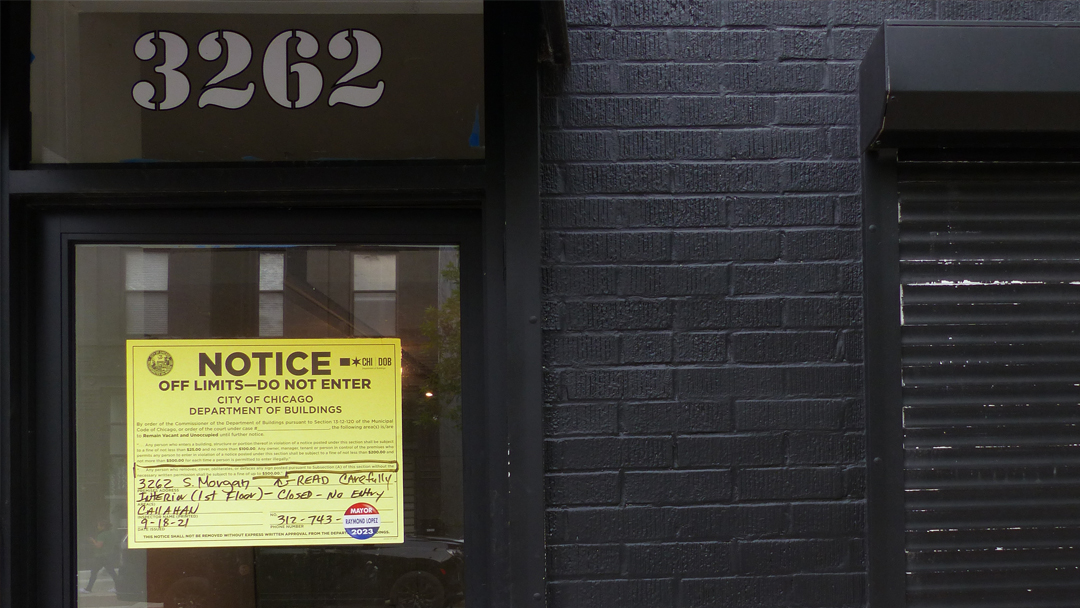 JUNE 15-19, 2022
3262 SOUTH MORGAN STREET
Featuring contributions by
EMILCE AVALOS (AR)
MIRIAM BAJTALA (AT)
KAROE GOLDT (DE)
GORAN HAMUS (RS/AT)
AMINA HANDKE (AT)
LIBGART SCHWARZ (AT)
AURELIA STAUB (AT)
DENNISSA YOUNG (US)
The notice on the door, invoking to stay Off Limits, addresses some of many No.HOT_L core topics: borders between public and private, forbidden and hidden, secrets and countries. Behind this door, in/visible details are arranged. The objects in front change quickly or wander by themselves.
---
CONTRIBUTIONS:
EMILCE AVALOS
Companero de Viajes (2022)
Jeans, signed and dated
This pair of jeans accompanied the artist on several travels, the (supposedly) last one to Vienna (AT). But they decided to travel on in Chicago, perhaps alone, perhaps with someone else.
MIRIAM BAJTALA
Im Kasten (2006)
Video (13'15", Loop)
A voyage through 23 different closets in Vienna (AT), presented on the tiny screen of a mobile device in an empty shop window to accidentally wondering passers-by.
Compact(her)story in 18 Rooms: Room 4/7 (2020)
Poster (18×24″)
This statement about family, working class and migration background connects the artist's herstory in Slovakia and Austria with the historic background of Chicago's Bridgeport neighborhood.
KARØ GOLDT
T-Shirt, Slide and Marigold (2020)
3 piece multiple (different materials and sizes)
Poetic personal remains of found footage lives, reassembled somewhere else: A restaurant reservation with a creative name misspelling, a multilingual tag telling what is, a view of a haven superimposed with a street view.
GORAN HAMUS
Java, Boss (2008)
2 piece multiple (different materials and sizes)
Joining the extremes with a supposedly (high price fashion) item in high quality materials and something like the opposite: a plastic pen freebie. The latter produced by a small coffee company and with an interesting misspelling ("kosenlose"). Which of the two is worth more?
AMINA HANDKE
Süngü 6 bis 2 (2019-22)
Video (43'', Loop)
Trying to swipe the view from a window in Istanbul. This is part of a series of views from windows in different cities.
Hotel Mate (2022)
Textile, Makeup (40×45 cm)
A scrapped towel made in Austria, the hotel no longer exists. The originator of the footprints will too, some day. Too many footprints, too much waste. The name of the Hotel originally reads "Maté", btw.
LIBGART SCHWARZ
Akzente 1989 (2022)
Literature magazine with pencil marks
The German-English transhomonyms (words with the same spelling but different meanings in different languages) in the German texts of this publication (translated from French and Hungarian) were all underlined with pencil. Examples: Brief, Hat, Fund.
AURELIA STAUB
Chairdance (2020)
Live video performance (1h)
This Chairdance aimed at synchronising Vienna and Chicago relating to Pauline Oliveros' Sonic Meditation concept.
AMINA HANDKE FT. DENNISSA YOUNG
Champagne Reception (2022)
Performance (1h)
An exclusive site specific Off Limits Champagne Reception Performance – exclusive also meaning excluding the audience. And performing an opening situation with two persons in an empty room that may not be entered by official notice. Documented by Mikayla Heinke.
WITH KIND SUPPORT BY